What are serological or blood tests for TB?
Blood tests for TB, also called serological tests, are tests that are carried out on blood samples. Serological or serodiagnostic tests for TB means diagnosing TB through looking at a blood sample, and specifically looking for antibodies in the blood sample. Some diseases such as HIV can be diagnosed very easily by taking a blood sample, and then doing a procedure that looks for antibodies in the blood sample. But you cannot diagnose TB disease this way.
Testing for TB by detecting antibodies in the blood is extremely difficult. People can have antibody responses suggesting that they have active TB even when they do not. Antibodies may also develop against other organisms that again could wrongly indicate that they have active TB
As a result commercial serological tests for TB, sometimes called serodiagnostic tests (such as the Anda-TB IgG) have very variable results and this generally means low sensitivity and specificity.(("Commercial serodiagnostic tests for diagnosis of Tuberculosis", Geneva, WHO, 2011 www.who.int/tb/publications/)) If a test has low sensitivity, it means that there will be a significant number of "false negative" results. This means that the test result indicates that a person has not got TB when they actually have got TB. Similarly, a low specificity means that there will be a significant number of "false positive" results. These suggest that a person has got TB when they actually haven't.
In July 2011 the World Health Organisation issued a warning that such blood tests should not be used for trying to diagnose active TB. They said that:
"Test results are inconsistent, imprecise and put patients' lives in danger."
Dr Mario Ravihlione, Director of WHO Stop TB Department (("WHO warns against the use of inaccurate blood tests for active tuberculosis", Geneva, WHO, 2011 www.who.int/mediacentre/news/releases/2011/))
The use of blood tests for diagnosing TB in India
In June 2012 the Indian government Ministry of Health and Family Welfare, banned the manufacture, import, distribution and use of serological test kits for the diagnosis of TB. However by early December the tests were still in widespread use in certain states such as Andhra Pradesh, and the chairperson for the RNTCP in South India said that:
"The blood test to diagnose TB has been banned by the government six months ago but it's still not being implemented."
Professor K Subhakar ((Sinha, K "Finally, tuberculosis declared a notifiable disease", The Times of India, May 9, 2012 //articles.timesofindia.indiatimes.com/2012-12-08/))
In late December 2012, the Ministry of Health and Family Welfare, took out advertisements in national newspapers, as shown below, again explaining that the use of serological tests kits for TB is banned, because of the lack of accuracy of the tests. The newspaper advertisements, also contained a number of questions and answers.
They explained that this does not mean that there are no TB tests available for diagnosing TB. They explained that sputum tests, culture tests and newer molecular tests can be used, and that free diagnosis and treatment for TB is available through the NTEP (RNTCP).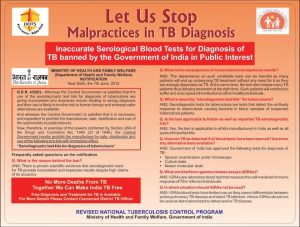 TB advertisement about the banning of serological blood tests for TB © RNTCP
Page Updating
This page was last updated in March 2021.
Author Annabel Kanabus
Social Media
If you have found this page useful please tell other people about TBFacts.org and if you have a website please link to us at https://tbfacts.org/serological-test-tb/.